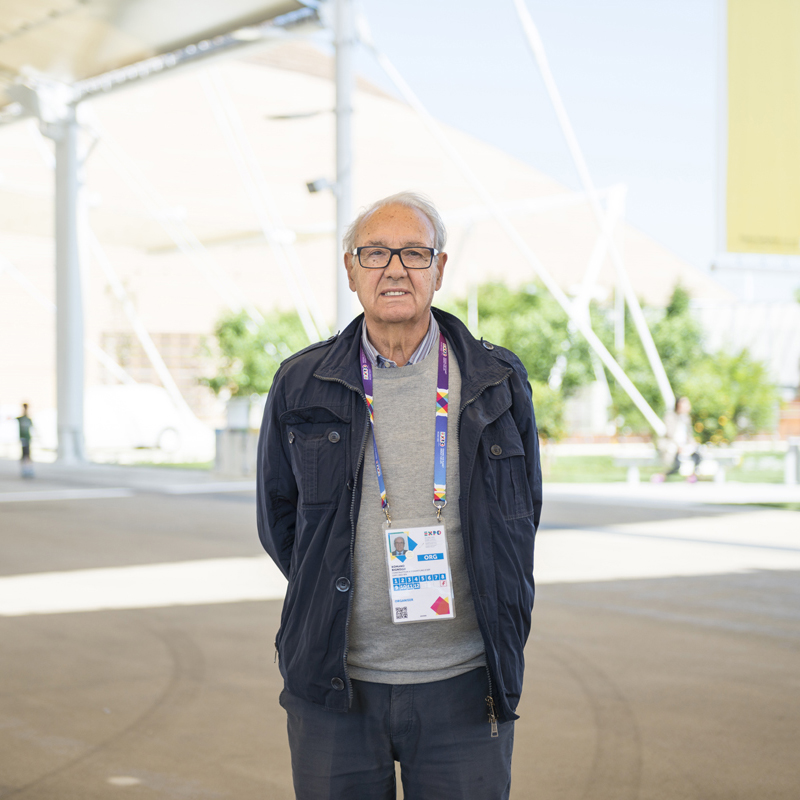 Romano
---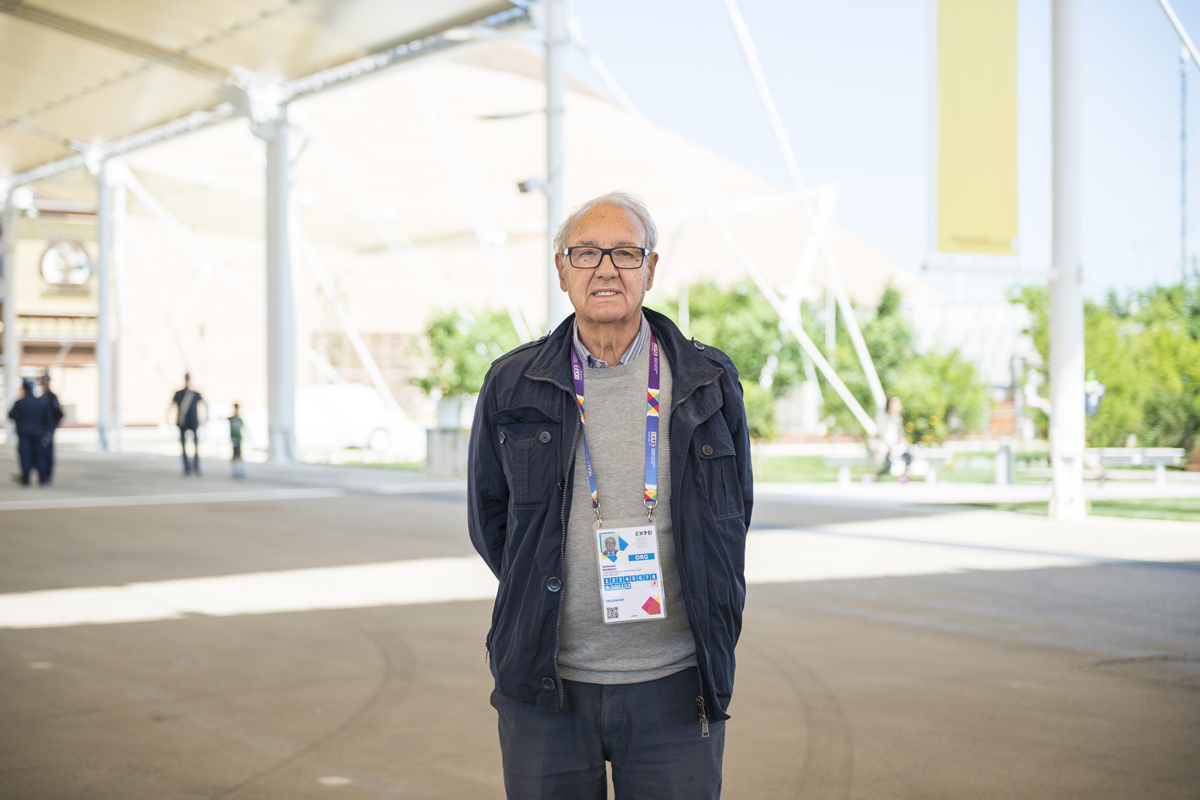 ROMANO // responsabile valutazione progetti e programmi lavori // Milano
Cantiere Expo
A volte mi dicono: eri emozionatissimo quando hai portato la bandiera. No in realtà ero più emozionato quando 1700 operai hanno scritto una lettera a Sala ringraziandomi perchè ho sempre dato una mano a tutti. Questo è un po' il mio carattere che viene da 50 anni di lavoro. Fin da quando ho iniziato, la prima cosa è stata il rapporto umano, se non c'è quello il resto non si fa. Sono qui dall'inizio, nel settembre 2009 quando mi hanno chiamato per fare lo studio dell'esecuzione, i programmi lavori e l'analisi di tutte le fasi esecutive per i quattro anni successivi.
Abbiamo cominciato a fare lo studio io con una decina di ragazzi, ingegneri e architetti. Ad un certo punto hanno cominciato a uscire delle cifre gigantesche, una concentrazione enorme di lavori: i primi calcoli che ho fatto davano origine ad una richiesta di una media di 4500/5000 operai.
Un'altra difficoltà è stata quella di avere i terreni il più in fretta possibile. Abbiamo dovuto combattere e organizzare anche questa cosa finchè, nel vicinissimo aprile 2013, ci siamo trovati finalmente liberi di cominciare.
Guardando tutto il programma lavori, con 1600 attività, era chiaro che il primo lavoro da affrontare era il decumano, con i suoi 36 m di larghezza sotto cui passavano tutti gli impianti. Si sono trovate a lavorare qui circa 1500 imprese, un putiferio di gente molto difficile da gestire, il decumano cresceva a ritmo di 100 metri alla settimana. Abbiamo obbligato le imprese a iniziare a lavorare sodo.
Poi a giugno 2014 hanno iniziato ad arrivare i Paesi. E a novembre 2014 è scoppiata la bomba perchè abbiamo dovuto obbligare le imprese a triplicare il personale e lì abbiamo iniziato ad avere 5000/5500 operai.
Chi lavorava di giorno, chi di notte. Una grande concentrazione di autogru, dati giganteschi in un sito non poi così grande, può immaginare quanti camion e tir. Tutti hanno lavorato con molta attenzione in particolare coloro che ci hanno assistito nella gestione degli accessi.
Tutti alla fine hanno gridato al miracolo, noi in realtà abbiamo capito che ce l'avremmo fatta già i primi giorni del 2015: quando, accaniti, ci siamo messi a lavorare giorno e notte.
Ora invece ci sono dei momenti che mi guardo intorno e mi dico: ma Romano che ci stai a fare qua che il tuo lavoro è finito! e invece in realtà qualcosa da fare c'è sempre.
head of project evaluation and construction planning // Milan
Expo construction site
Sometimes they tell me: you were very moved when you carried the flag. I was actually more moved when 1700 construction workers wrote a letter to Sala thanking me because I helped everyone. This is how I am, and it comes from fifty years of work. Since the very beginning, human relations were the most important thing for me, if they are lacking the rest can't work. I've been here since day one, in September 2009, when they hired me for the construction planning and the analysis of all the implementation stages for the following four years.
I began working on the study with a dozen colleagues, engineers and architects. At one point these huge figures started to come out, a massive concentration of works: the first calculations that I did resulted in the need for an average of 4500/5000 workers.
Another difficulty was having the land as soon as possible. We had to also fight for and organise this until very recently, in April 2013, we were finally free to begin.
Looking at the construction plan, with 1600 activities, it was clear that the first work to embark on was the Decumano, with its 36 metres of width under which all systems ran. About 1500 companies worked together here: a lot of people, very difficult to coordinate, and as a result the Decumano was growing at a speed of one hundred metres per week. We forced the companies to work harder.
Then in June 2014 the countries began to arrive. And in November 2014 the tension got higher because we had to force the construction companies to treble their staff, and that's when we started to have 5000/5500 workers.
There was people working day and night. A great concentration of cherry pickers, massive figures on a site that wasn't that big, you can imagine how many trucks and articulated lorries. Everybody worked with great care, especially those managing accesses.
In the end the result was hailed as a miracle, but we knew we were going to make it already in the first days of 2015, when we threw ourselves into it and started to work around the clock.
Now there are times when I look around and ask myself: "Romano, what are you still doing here now that your job is done?" Actually there is always something to do.